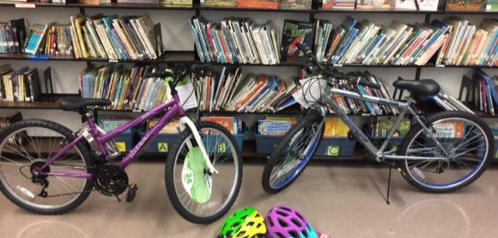 WIN A BIKE!!! 
This year our school is the fortunate recipient of two brand new bikes  and two brand new helmets.  Who can win?  Any student who participates in our Home Reading Program has the opportunity to win.  For every 25 nights of reading, 5 entry tickets are put into the draw.  The more you read, the more chances you have to win.  The draw will take place in the beginning of June.  Stay tuned to see who our lucky winners will be.  If your child does not have a Home Reading Record, please ask your child's teacher for one.  Happy reading!!
The bikes and helmets have been generously donated by the Free Masons of Chilliwack. 
Bernard Library's Catalogue
To access our On line Destiny Quest Bernard Catalogue, please click on the icon to be taken to the Destiny Quest home page.  All students can place a hold, and search our book collection by logging into their accounts.
TO ACCESS YOUR CHILD'S LIBRARY ACCOUNT: user name and password are required - just log in like you do when using the school computers and laptops.
Thanks so much to everyone for their incredible support of our scholastic book fair.  Even though it was a short three day event, we were able to sell $2446.05 worth of product which translates into $1592.38 of books for our school!!  I was able to get some wonderful books for our 100 night Home Reading prizes as well as many books for the library!  Thanks to all who came out and checked out the book fair.  I am grateful for your support and I know the students of Bernard will enjoy reading brand new books. 
Congratulations to Tyler M. and Mrs. Smith who were our luck winners of the Family Event Door Prize.  Tyler won $25 worth of books for himself AND $25 worth of books for his teacher.
Each division in our school visits the library once a week as a class, but there are other times a student can exchange books throughout the week :)  Every Wednesday from 9:45 - 10:10  the library is open for a quick book exchange.  Mrs. Ens also keeps the library open after school Monday-Thursday for 10 minutes to provide students with another opportunity  to exchange their books.  So, if your child misses his/her library day, no worries, there are ample opportunities provided by Mrs. Ens to get a new book.